"The Chain Will Keep Us Together"
(blockchain for the music industry)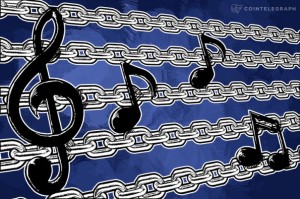 I live and work in a hotbed of technology – San Francisco. I am bombarded daily with hype for the latest in tech. Most of this is just that – hype. But every once in awhile a new bit of technology comes along with the potential to completely change the world in which we live. I believe blockchain technology is one such technology. The Blockchain isn't exactly new – it made its name as the foundation for Bitcoin and the like, but its beginning to hold great promise for other digital assets as well. My interests are in its application to the music industry in particular.
Over the past few weeks I've been drinking from the firehose in an attempt to understand the technology and find the early pioneers in this space. My goal is be on the forefront of this effort and I believe my experience designing complex financial platforms will be valuable in this space.
Below are the ongoing fruits of my discovery efforts to research this new frontier. Please feel free to point me to new info or correct me. This is the beginning of a conversation in hopes we can bring transparency and accountability to the music industry so artists can get paid for their creations.
A good primer:
D.A. Wallach:Â Bitcoin for Rockstars
Related articles:
BerkleeICE:Â Re-think Music
Hypebot:Â The future of transparency in the music business
O'Reilly:Â Understanding the blockchain
Forbes:Â The bitcoin blockchain just might save the music industry if only we could understand it
Hypebot:Â What the music business could learn from the internet of things
Forbes:Â Imogen Heap's Mycelia
Ronnie Rocket:Â The future of music is on the blockchain
The Guardian:Â Could blockchain technology solve streaming music's payment system?
Coin Report: Blockchain's potential is making waves in the music industry
Ideo:Â Musicians + Bits + Blocks
Billboard:Â How 'the Blockchain' Could Actually Change the Music Industry
Observer:Â Block Chain-Powered Used Digital Music Stores Would Profit Musicians
iMusician: Too Good to Be True
Pioneers in this space:
Traditional players of note:
Dissenting views:
Digital Music News:Â Bitcoin: Just Another Music Industry Fairytale?
If I've missed anything please let me know.