The Needle and the Damage Done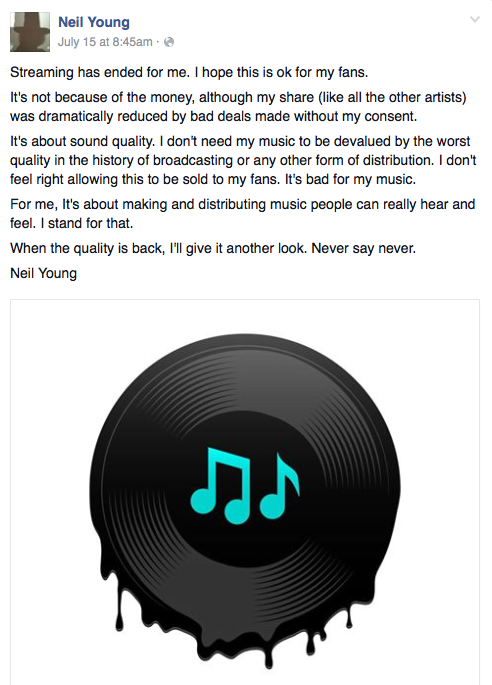 Neil Young's proclamation that he is pulling his catalog from streaming services really hit me hard. I've been trying to reconcile it in my head the entire week. I am a long time Neil Young fan – I've purchased plenty of his albums on multiple formats over the years. I'm an early streaming adopter and I no longer listen to music any other way (except for an occasional vinyl moment). It's not because I don't care about quality, it's because I'm a busy professional with a family. Convenience trumps quality for me at this stage in my life.
What really disturbs me is that he's taking something away from me, as well as from a generation who deserves to hear his message (as relevant today as anytime). Hell, I believe Neil's music would be valuable even through a bullhorn – because it's his lyrics that have often pulled me from despair over the years. Not the sound quality of the music.
I've long aligned with Neil's philosophies – even if not his actions. Contrary to some pundits' cries I don't believe this latest action is a PR stunt. I was in the audience at SXSW in 2013 when he announced the Pono player. He claimed that some studios were beginning to cut costs by mastering only to the level required by the popular format of the day which is obviously short-sighted. He aimed to create a market for high quality music so that the studios would continue to master music at the highest level possible – so that future generations would have a high-quality archive to pull from. In fact, he said he didn't care if the device wasn't adopted en mass. There was a palpable juxtaposition on stage between Neil's idealism and his partner's business sense. You should have seen his business partner bristle when Neil said he didn't care if the Pono didn't sell well. I can't imagine that Neil didn't really believe what he was saying. He's authentic and maybe it's because I've always felt a deeper truth in his lyrics that I trust he tells the truth in real life too.
I do believe quality will be an important factor in the next wave of streaming. The tech sector will continue to lead the way. There's an opportunity for technology to provide an experience based on 'contextual quality' and 'continuity' which may find a compromise between convenience and quality. Imagine the quality of the music adjusting to your context. Imagine a continuous experience where the music is handed-off between devices as you transition between environments – go from your earbuds on your phone, to your higher quality headphones on your computer at work, to the speakers in your car, to the high-end stereo at home – with each device giving you the optimum quality for the context.
I'm certain I'm not alone in listening to a playlist in varying environments throughout the day. But if Neil pulls his catalog from Spotify I'll only be able to enjoy his music when I get home at the end of the day – that is IF I can steal a precious moment to sit in the living room around the turntable.